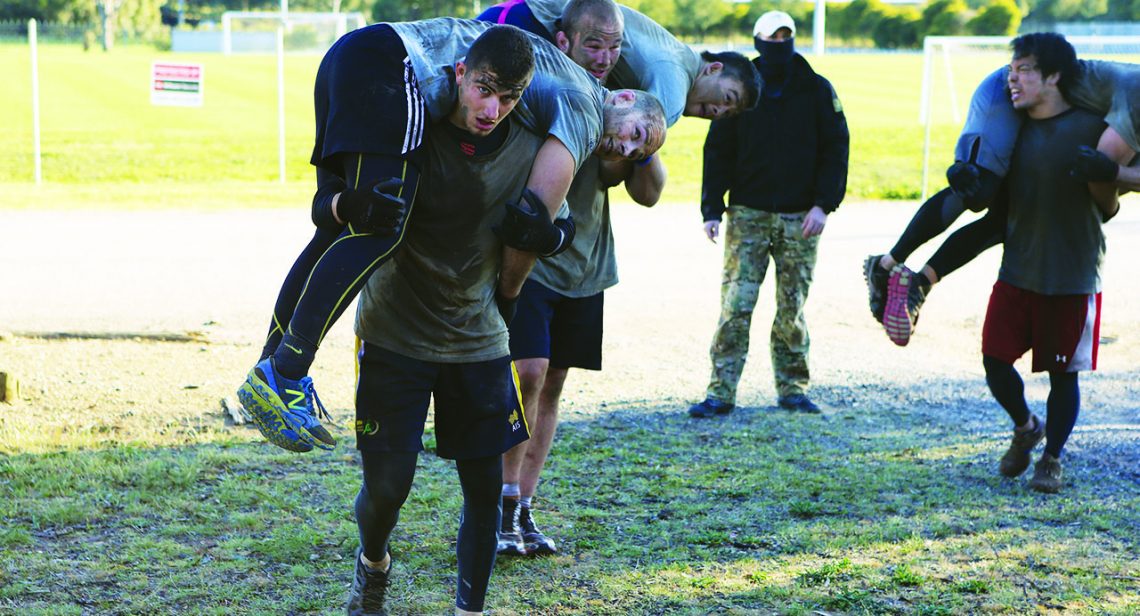 Not long ago, when I was working as one of three team leaders at the Australian Institute of Sport Combat Centre, we determined that it's desirable for AIS combat sports draftees to have a 'combat mindset'. This should not be confused with pure aggression, though; 'combat mindset' refers to the psychological attributes of resilience/hardiness, determination and intrinsic motivation. The international sporting elite tend to display these attributes in some way, yet sports generally tend to instead identify athletes' potential based on sport-specific skill sets and athletic capability. Our military Special Forces (SF), on the other hand, focus on identifying the aforementioned psychological attributes by taking extremely fit soldiers beyond what their bodies have ever done before, and also beyond what their minds think is reasonable — or even possible.
So, can SF selection methodology be adapted for use in combat sports?
Well, for the first AIS combat sports draft, we selected for two of the four Olympic combat sports: judo and boxing. Rather than just repeating a selection process designed for soldiers, we adjusted it to fit our new objective. We decided that the core psychological attributes of resilience, determination and intrinsic motivation would remain as the core for the combat sports athlete, but we also wanted to add sports-specific psychological traits. The best way to do that was to ask the Olympic coaches what they look for in a champion. We soon had a whiteboard covered in ideas, which we narrowed down into traits that we agreed were important to both sports. These were: self-discipline, resistance to failure, 'killer instinct', determination, mental toughness, preparedness to experience pain and readiness to make weight for a fight. Most of these crossed over from soldier to athlete, although being prepared to make weight was unique to combat sports.
Next, we formulated the first talent identification camp by combining the best of AIS sports science with our modified SF selection techniques. Hundreds of applicants undertook physical testing in their home states, and from this we selected 40 of the most physically gifted athletes, and brought them to the AIS for the selection camp. Before the camp, many in judo and boxing were doubtful about our chance of success. To have a camp find someone who is fit and mentally tough is one thing, but for them to learn the 'art' of boxing and judo is quite another. 'What happens when they take their first punch to the face?' Or 'What happens when they are thrown through the air time and time again?' To be honest, as a combat sportsman myself, I was even unsure if that was going to be the kicker that would let the process down. We weren't going to put candidates in physical danger of injury; we were not looking for thugs, but for intelligent and physically gifted athletes who can learn anything quickly.
And the results were better than even the most optimistic of us could have predicted. The selection rates were as I expected, with fewer than 10 being accepted into the draft, but all 40 were excellent, with those selected being exceptional.
The draftees' longer-term results were also outstanding. All of them won state titles in their sport within a year. The judo draftees all won national medals in their division and after 18 months we have one draftee ranked fifth in Australia after medalling at national and international tournaments. Some feedback from the coaches who had AIS draftees in their gyms included: "He is an absolute workhorse — amazing attitude"; and "I love having the Sports Draft athlete in my gym… His work ethic is rubbing off on my other young boxers."
The great value in this multidimensional selection process is that it is transformational, and in ways we greatly underestimated. As one of the selected athletes reported, "Getting through the draft has helped me understand that physical limitations can be overcome if you allow your mind to take over and push through. It has been one of the toughest challenges to be a part of but now, getting through it, I have the confidence to take on nearly any physical task within reason."
This mental transformation is the most important part of the process, as it will stay with the athletes long after their time in sport and will have a positive effect on them for the rest of their lives.

Download PDF version