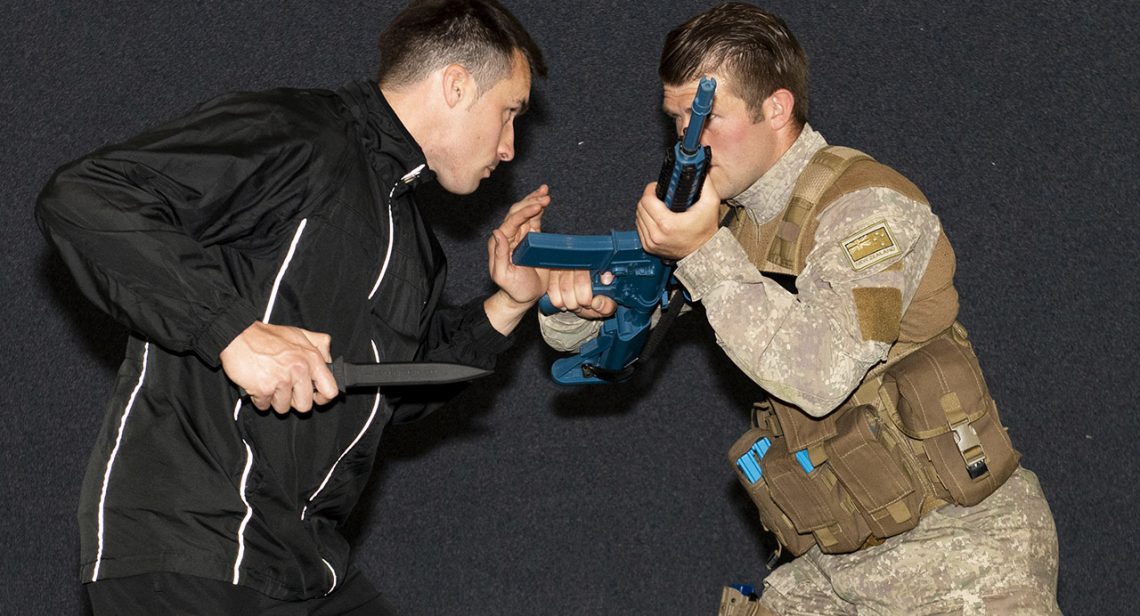 In November 2020, the Australian Defence Force and Kinetic Fighting granted a license to the NZDF to replace its Close Quarter Combat/Military Unarmed Combat combined programs with ACP. The program's creator, Kinetic Fighting CEO and former Commando Sergeant Paul Cale, will retain his role as ACP subject-matter expert (SME) and advisor, assisting NZ Defence to implement the new syllabus.
"It's great to see our Kiwi brothers in arms enhancing their close-quarters capability," said Cale. "Close-combat is a vital component of modern warfare, which is why the Australian Army has made it such a point of focus in recent years. Our armies always support each other and share the same values, so it makes sense that we're on the same page when it comes to combatives methodology and training systems."
The roll-out of ACP to NZ Army soldiers began in November, with several ACP instructors from the Australian Army heading 'across the ditch' to train their Kiwi counterparts. While COVID-19 travel restrictions prevented Cale from joining them, he provided guidance and technical oversight through online training sessions.
Major Matt Singleton, ACP project lead for the NZ Army, told the NZDF's Army News that ACP supports the army's need to teach relevant, combat-oriented hand-to-hand fighting techniques. "The New Zealand Army has a long history of using improvised weapons and close-combat techniques," said MAJ Singleton. "Consider Lieutenant Ngarimu's actions in Tebaga Gap during World War Two, where he fought off German counter-attacks using stones, or on Victor Four, where a tracking patrol tackled and detained a Viet Minh sentry. New Zealand service personnel have an enduring requirement to be able to achieve mission success in the close-combat space. Even now as the major deployments are wrapping up, individuals deployed overseas need to have the ability to protect themselves."
The November Army News article (page 33) also outlined the reasons why the Aussie program was selected to replace the current NZ Army combatives packages, including that "ACP is combat-oriented training based on common techniques that instil a combat mindset and develop combat behaviours within soldiers and officers".
"ACP is designed to be easy to teach and easy to learn; as part of that, there are fewer technical moves than in the previous [NZ Army] package," Army News reported. "ACP is also structured to suit the requirements of respective corps and units, so that not everyone has to be trained in all aspects of it. These improvements include reducing the amount of jargon to a few specific items and then incorporating them all into one training policy. The terms Close-Quarter Battle (CQB), Close-Quarter Combat (CQC) and Military Unarmed Combat (MUC) will no longer be used."
Early feedback from NZ Army instructors includes praise for ACP's simplicity and technique-retention rates. Corporal Ralph Mcleay, a seasoned martial arts practitioner on the roll-out team, said it was "a lot easier for the recruits to pick up and demonstrate the techniques during the testing phases".
"I feel like we finally have a system that the soldiers will buy into and will seek out further training in order to be more efficient in this system, and in turn produce a soldier who will thrive in violence," said CPL Mcleay.
The rapid implementation of the ACP by NZ Army combatives instructors is now well under way, with Cale expected to visit New Zealand early in 2021 to assist the assigned officers in their mission. Kiwi trainers have also expressed interest in setting up their own Integrated Combat Clubs (ICCs), which in Australia are located on major army bases. The ICCs provide opportunities for Defence personnel to advance their ACP skill sets and participate in recreational and complementary martial arts training.
"These are exciting times for ANZAC soldiers, and I'm really looking forward to helping both our armies build this key capability further in the years to come," said Cale.
Meanwhile, Cale and Kinetic Fighting's Combative Master Trainers (CMTs) are busy developing several new training courses for the public, due to be launched in February and March 2021.