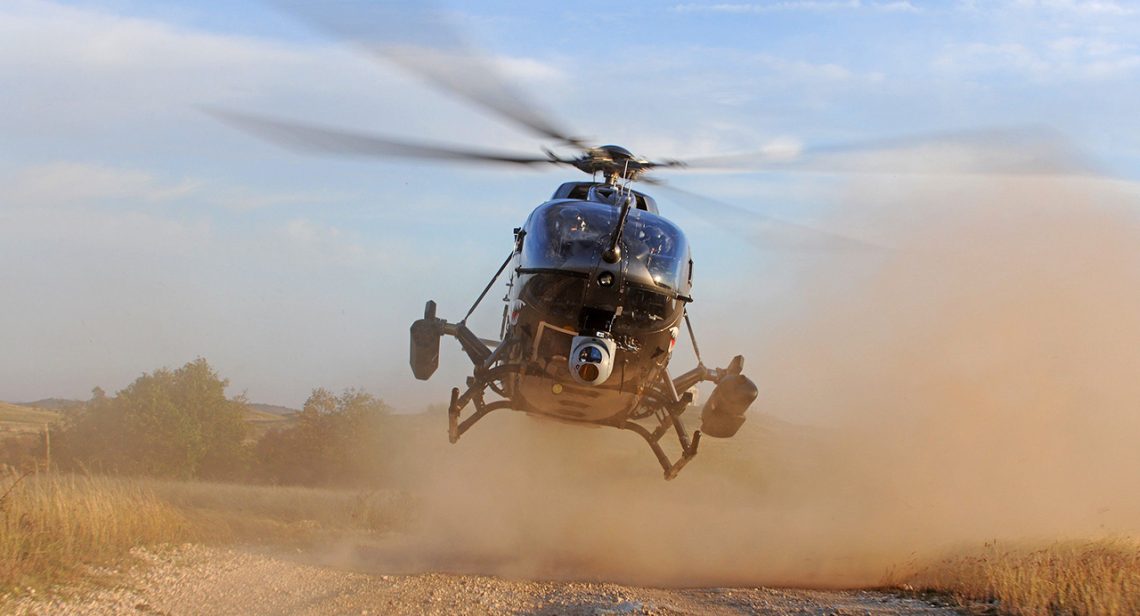 Through its technology arm, Kinetic XR, Kinetic Fighting (KEF) will offer a complete induction and training package for ADF units and others deploying Airbus' H145M helicopter in military and front-line roles. Kinetic XR is a joint venture with leading virtual-reality company Liminal VR, which specialises in VR learning systems.
CEO of KEF and Kinetic XR, Paul Cale, said the training would focus on ensuring safe and optimal use of the airframe and its equipment in mission scenarios.
"Efficiency and effectiveness are vital with any training endeavour, but especially one where lives are at stake," said Cale. "With training delivered by specialists who know both the helicopter and the users' needs inside-out, the H145M can take Australia's counter-terrorism capability to the next level."
Kinetic XR's training will be specifically designed to educate Special Forces (SF) personnel in the operational use of Airbus' H145M helicopter. The proposed package includes grounded and in-flight training delivered by KEF's Mission Specialist Instructors — all Special Forces veterans — as well as virtual-reality simulation and testing modules to be developed by Kinetic XR.
Cale, a combat veteran and former Sergeant in the 2nd Commando Regiment, believes the project could deliver a breakthrough in army training if adopted.
"The way we train people will be faster and cheaper than has been possible in the past. This is because VR ensures rapid uptake and retention of information and skills, as well as accurate ongoing instruction," he said. "That's exactly what's required when educating multiple brigades or preparing soldiers for rapid deployment. And never more so than with operators who will be using the helo [helicopter] above our cities in an anti-terrorism role."
KEF's MSI team would train operators in best-practice application of the H145M's features for domestic and maritime counter-terrorism, and special recovery operations. This would include aerial fire support and helicopter insertion/extraction methods such as fast roping and rappelling.
VR will be utilised in familiarisation training, as well as teaching and testing the correct use of equipment in a variety of relevant virtual scenarios.
Kinetic XR's Chief Operations Officer, Damian Moratti, explained that the key to VR's effectiveness as a training tool lies in its ability to immerse the user in a virtual world. To that end, Kinetic XR's neuroscientists and psychologists are as busy as its high-end animators. Together, they've spent five years researching, testing and proving VR's ability to invoke cognitive and emotional responses equal to that of a real experience — only with greater safety and fewer logistical hassles.
"In its recently released Defence Enterprise Learning Strategy (DELS) 2035, the ADF identified VR to be a critical tool to rapidly improve its training capabilities, emphasising its potential for engagement," said Moratti. "This aspect of VR is well proven, and our team has already harnessed it to achieve important commercial and social outcomes."
His company's application of the methodology to industry includes a 'Virtual Harvester' agricultural training program, and a behaviour-change program that successfully reduced users' consumption of single-use plastic.
The same science would be applied to training Australia's elite soldiers.
"Interactive VR scenarios enable SF personnel to practise and test their execution of the required skills contextually; for example, in the context of specific mission types. We can safely induce stress and raise the physiological arousal levels of soldiers, manipulating their cognitive load to enhance skill acquisition. We can also deliver real-time feedback and audio-visual cues," said Moratti.
"Importantly, VR training's effectiveness is not reliant on an instructor — it delivers correct instruction 100 per cent of the time. This would provide for a reliable and low-cost tool for rapidly refreshing operators' knowledge of the Airbus H145M."
A light (3.7-tonne), twin-engine helicopter, the compact H145M may be optimised for tactical operations in dense urban terrain. The compact H145M can provide tactical air transport of six fully equipped SF operators and can be deployed for fire support, armed reconnaissance, emergency medical evacuation and hostage rescue. It utilises Airbus' fully qualified, unique HForce weapon-management system: a modular equipment and weapons concept that enables users to configure their helicopters for specific roles and requirements.
The H145M will also be rapidly deployable to faraway conflict zones, via the Royal Australian Air Force's C-17A Globemasters.
Andrew Mathewson, Managing Director of Airbus Australia Pacific (Airbus AP), said the helicopter "is an exemplar platform for light special operations and is a solid match for the Special Forces' requirements, with proven capabilities for no-fail, high-readiness missions".
"The H145M that we are proposing is the latest member of the H145M family, which has flown over 5.9 million hours, with more than 1400 aircraft in service globally across civil, para-public and military domains," he said. "It is well supported by a mature global network."
The H145M is gaining popularity among defence forces, counting military forces in Germany, Hungary, Luxembourg, Serbia and Thailand as customers. With its proven service record and recent technological advancements such as the five-blade rotor, it could provide an agile 'mobile command post' for Australian Special Forces teams.
That's the goal of Team Nightjar, which brings together more than 20 Australian and international companies. These include Aussie veteran-owned engineering outfit Eclips, local transport safety innovator Seeing Machines, and global defence giants such as Safran, KBR and QinetiQ. University of Technology Sydney and Melbourne's Deakin University will also contribute to the project. Each partner will play a role in Airbus's plan to deliver a fleet of tailored H145M aircraft to the Australian Defence Force (ADF), along with ongoing support, as part of the ADF's Project LAND 2097 Phase 4.
Airbus is a global leader in the aeronautical industry, generating €70 billion in revenue and employing around 135,000 people in 2019. For more information on Team Nightjar, visit www.teamnightjar.com.au