Combatives Master Trainers (CMTs) represent the highest level of expertise and training in both the Kinetic Fighting–Integrated Combat (KEF–IC) Personal Combatives program, and the Army Combatives Program (ACP). All grades issued in KEF–IC and ACP must be certified by a CMT, and in turn, all CMTs and Licensed Instructors have been personally certified by Kinetic Fighting founder Paul Cale. This small group of very experienced exponents, most with Army and/or Special Forces backgrounds, deliver KEF–IC and ACP courses Australia-wide. Some are also available for private lessons, seminars or to run regular training — contact KEF for details.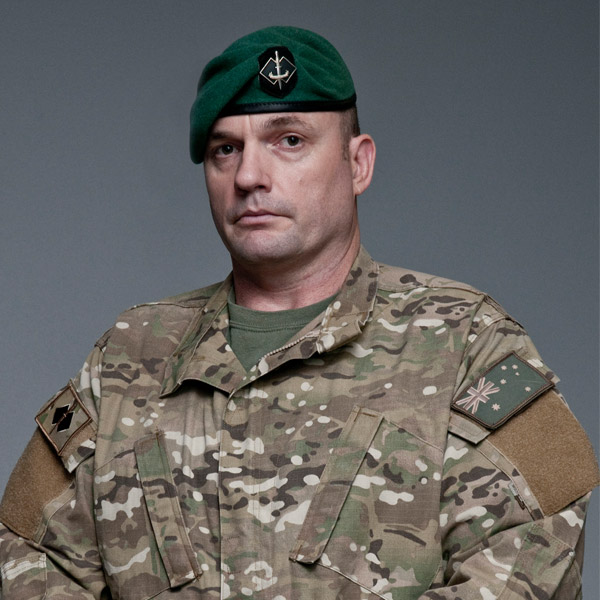 Paul Cale
Founder // Chief Combatives Master Trainer: KEF–IC & ACP L4 (SF)
Paul is driven by the company mantra, 'excellence over everything'.
"We pride ourselves on uncompromising standards of training and quality of content," says the former Commando Sergeant.
Paul has been involved with the Australian Army for 30 years, either as a soldier or a preferred contractor, as he is today. For most of that time he was a member of the Special Forces (SF), serving in the 1st Commando Regiment and 4RAR Commando before he became a founding member of the 2nd Commando Regiment (2CDO) in 2009. As a Commando, he was deployed five times on combat tours to Afghanistan and Iraq, and at home served as a team leader in the Tactical Assault Group, Australia's elite anti-terror unit comprised of Commandos (TAG-East) and SAS operators (TAG-West). Paul's personal hand-to-hand combat experiences in theatres of war, and those of his fellow Commandos, have guided his development of the Kinetic Fighting system. This evolution began when, as a sergeant with 2 CDO, Paul redeveloped the Close Quarter Fighting (CQF) course for Special Forces, and co-founded the 2 CDO Integrated Combat Centre (ICC). Paul later created the Infantry Integrated Combat (IIC) course being used by the entire Australian Infantry Corps and is now the Army's external subject-matter expert for the Army Combatives Program (ACP) across all levels. ACP Level 1 is compulsory training for all Australian soldiers; the highest ACP qualification, Level 4, is CQF for Special Forces.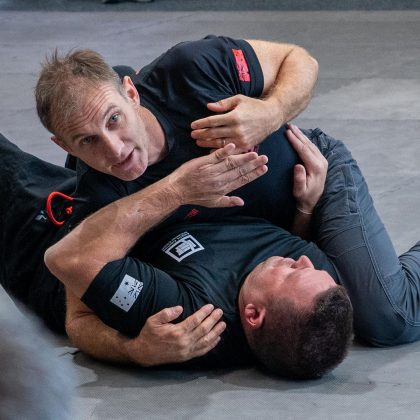 Clancy Roberts
Combatives Master Trainer: KEF–IC & ACP L4 (SF)
Clancy Roberts was one of Kinetic Fighting's first Combatives Master Trainers. With more than 20 years of martial arts training behind him, Clancy first assisted KEF founder Paul Cale in teaching close-quarter fighting (CQF) while both were soldiers in the 2nd Commando Regiment, at the Commando Operational Level Training Cell (COLT). He is now ACP qualified to Level 4 (SF).
As well as Special Forces CQF, Clancy has over 10 years of experience in muay Thai kickboxing and 20 in Brazilian jiu-jitsu (BJJ), as well as many years working in crowd-control and close personal protection (CPP, aka bodyguarding). A CPP specialist, Clancy's career as a Commando included three combat tours of Afghanistan and two deployments protecting Australian personnel in Iraq. After retiring from the Army in 2015, Clancy spent three years managing security training and planning for the Sydney Opera House, while also running CPP operations for KEF Group.
With a variety of industry credentials covering leadership, security operations, training and safety, Clancy is well qualified to deliver high-end training in combatives as a CMT, and in other front-line skill sets as a Mission Specialist Instructor. He is also Kinetic Fighting's chief instructor of navigation and survival training — for more info, click here.
Geordie Lavers-McBain
Combatives Master Trainer: KEF–IC & ACP
Geordie Lavers-McBain is a KEF–IC Combatives Master Trainer who is contracted by the Australian Army to teach at 7th Combat Brigade's Combatives Centre (Gallipoli Barracks, Enogerra, QLD). He is the only civilian to have completed Levels 1, 2 and 3 of the Army Combatives Program (ACP), as well as ACP Instructor qualification. Geordie has also completed the US Marines' MCMAP (Marine Corps Martial Arts Program) black-belt curriculum.
Having done more than 30 years of training, Geordie holds black-belt ranks in 23 different martial/combat arts, and instructor qualifications in 14 systems. His ranks include a 2nd Degree in Brazilian jiu-jitsu (BJJ) and 6th Degree in Jissen Budo, and many more in striking, grappling and weaponry methods. He is also the General Director of Wrestling Australia, Australian Director of Combat Wrestling and International Liaison Officer for Jissen Budo International (JBI). A former competitor and champion himself, Geordie has produced five world champions, 74 international champions and many more national and regional title-holders in muay Thai, boxing, BJJ, wrestling, bare-knuckle karate, MMA and judo.
Geordie runs several training centres in Queensland under the name Black Dragon Kai.
Aaron Johnston
Combatives Master Trainer: KEF–IC & ACP L4 (SF)
Warrant Officer Class Two Aaron Johnston had a diverse military career spanning 30 years before retiring in 2022. Aaron served in numerous roles in the Australian Defence Force (ADF) and was deployed to East Timor, Iraq and Afghanistan. A former member of the 2nd Commando Regiment, he was also a Special Forces Close-Quarter Fighting Supervisor and Army Combatives Program (ACP) Instructor. In his last posting, Aaron served as the Combatives Sergeant Major of the 7th Combat Brigade Combatives Centre in Brisbane, overseeing 'Human Performance Optimisation – Combat Skills Enhancement', including ACP.
Aaron began his martial arts training in 1993 and has always been heavily focused on skills related to personal security, military close combat and integration of traditional arts to enhance combat resilience. He is a martial arts instructor with Black Dragon Kai and Veterans Grappling, and while serving he held the title of 'Combative Sergeant Major – ACP–IC' (Red-and-White Belt), awarded by Chief CMT Paul Cale in 2019. Aaron draws upon his experience in taekwondo, Brazilian jiu-jitsu, boxing, Jissen Budo and combatives to provide exceptional instruction to soldiers and KEF–IC students.
WO1 James Hellyer
Combatives Master Trainer: KEF–IC & ACP
Warrant Officer Class One James Hellyer has given more than 23 years to military service and has been deployed multiple times to Afghanistan, East Timor and Iraq. He was among the first four KEF–IC Combatives Master Trainers recognised by the programs' creator, Paul Cale. Along with his history of instructing the Australian Army Combatives Program (ACP) to a variety of units domestically, he has also instructed Coalition and Iraqi Special Forces units while deployed. James's teaching also leverages off 30 years of martial arts experience in a variety of systems. These include boxing, judo, Japanese jujutsu, Kudo Daido Juku, Brazilian jiu-jitsu (BJJ) and KEF–IC/ACP combatives.
This experience, coupled with James's extensive army training, gives him a unique ability to connect with KEF–IC students of various styles and abilities to deliver the program with relevance and professionalism. With a passionate and relatable style of instruction, James ensures his students leave with real-world skills that can be relied upon in a moment of conflict.
Formerly the head instructor at Jean Jacques Machado Jiu-Jitsu Sydney, James now teaches ACP, KEF–IC and BJJ in Adelaide, where he is posted with the Australian Army.
* Note: James is not a Kinetic Fighting staff member; he is employed full-time by the Australian Army and is featured here in recognition of his achievements and standing in ACP/KEF–IC. He teaches KEF–IC to the public in an individual capacity.
Michael van der Vlist
Combatives Master Trainer: KEF–IC & ACP L4 (SF)
Former Commando Michael van der Vlist is a highly experienced Combatives Master Trainer and current Australian Army Combatives Program (ACP) instructor, qualified to Level 4 (SF).
Michael spent more than 20 years full-time in the ADF, deploying multiple times to Kyrgyzstan, Afghanistan and Iraq. He now serves as a reservist, applying his many years of Special Forces close-quarter fighting (CQF) and martial arts experience to train soldiers in ACP. A 3rd Degree Black-belt, Michael has also been teaching martial arts for more than 25 years and has trained in a variety of systems. These include full-contact karate, kung fu, kickboxing, Brazilian jiu-jitsu and competitive Mixed Martial Arts (MMA).
A specialist in leadership and adventure-based training, Michael holds a number of industry qualifications including Certificate IV in Workplace Health and Safety, and in Training and Assessment. He is also a Mission Specialist Instructor for Kinetic Fighting, teaching specialised skill sets to ADF personnel and other front-line professionals.

Bryson Keenan
Combatives Master Trainer: KEF–IC
Bryson Keenan has over 50 years' experience in civilian and military combat systems. Having originally qualified as an Australian Army Close-Quarter Fighting (CQF) Supervisor in 2000, he was awarded the KEF–IC Combatives Master Trainer qualification by Chief Combatives Master Trainer Paul Cale in 2020.
Having commenced his martial arts training in 1968, Bryson has been teaching since 1976 and now holds master-level grades in karate (8th Dan, Okinawa Gojuryu Kenkyukai; 8th Dan, International Budo Kaikan), and is a Floro Fighting Systems knife instructor. He is also Senior Technical Advisor to Jissen Budo International (the official martial art program of the ADF Martial Arts Association).
Bryson holds a Graduate Diploma in Counter-terrorism and Security, and a number of vocational qualifications in, but not limited to, security-risk management, training and assessment, and investigations. After holding senior international positions in corporate security and security consultancy over almost two decades, on the back of a 22-year military career in infantry and intelligence roles, he is now semi-retired.

Nick Caldwell
Combatives Master Trainer: KEF–IC & ACP L4 (SF)
A former Australian Commando and SAS operator, Nick Caldwell is qualified in Special Forces Close Quarter Fighting (ACP Level 4) and Close Quarter Battle (CQB). He served for more than 12 years in Special Forces, during which he deployed to conflict zones in South East Asia and the Middle East, including Timor Leste and Iraq.
Since then, Nick has gained extensive experience instructing students across Australia and Asia in team development, security, enterprise risk management, crisis management, survival and first aid. He also holds a Graduate Diploma in Training Management, and Diplomas in Paramedical Science, Security and Risk management and Government Security.
A long-time practitioner of the martial arts, including full-contact karate and Brazilian jiu-jitsu (BJJ), Nick is currently co-owner and instructor at The Mill Gym in North Fremantle, Western Australia. There he delivers training in KEF–IC, BJJ, strength and conditioning, resilience and pre-enlistment skill development for military and other front-line jobs.