KNOWLEDGE DRIVES CAPABILITY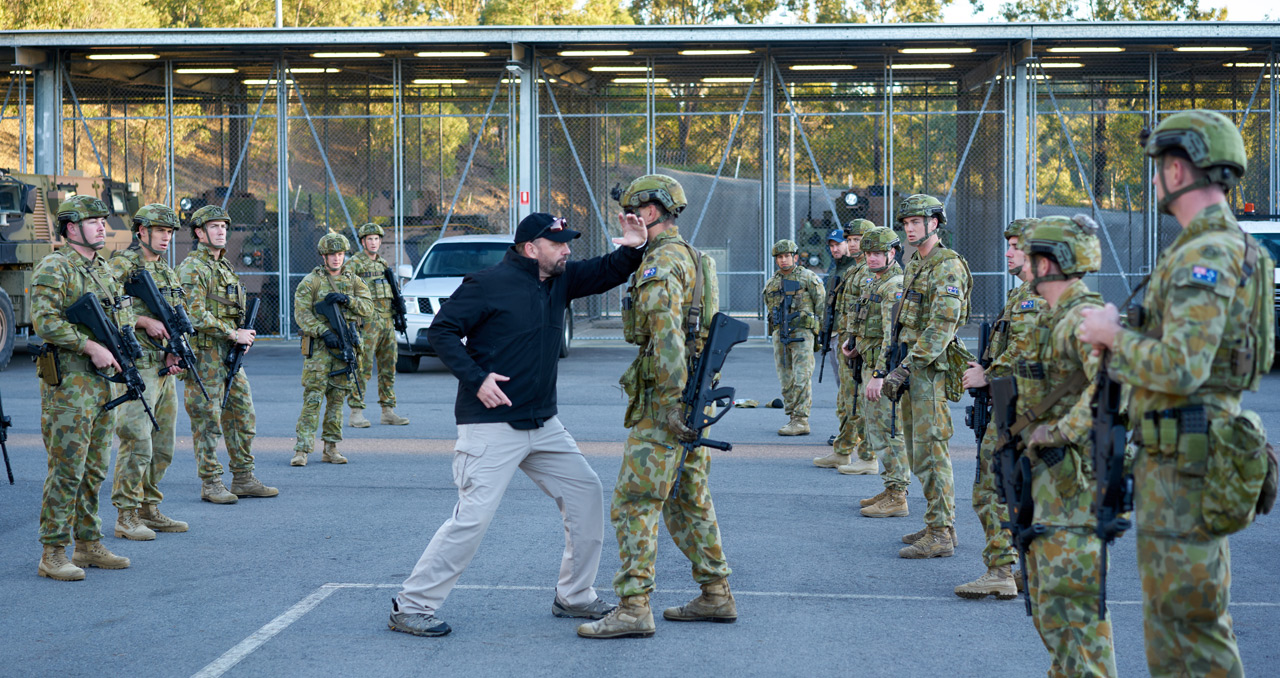 Kinetic Fighting Pty Ltd (KEF Group) is a world leader in teaching and enhancing operational skills for use in combat, law enforcement, security and related fields. Our elite team is comprised of former Australian Special Forces operators and police. Together, they have developed highly-advanced and customised skills-enhancement courses for the Australian Defence Force, police and other government agencies.
As leaders in our field, we feel it is our duty to use our knowledge and experience to help people enhance their skills, improving their preparedness to deal with violence, risk and crisis situations. In doing so, we enable our clients and their personnel to reduce, rationalise and control fear. The result? Confident people with capabilities to match.
Training Capability
Kinetic Fighting specialises in preparing front-line professionals for success in high-end, high-risk operations. For some years, we have been setting the standard in close-quarter tactical training for armed forces and organisations operating on front lines, domestic and international. We are the first and sole provider of pre-deployment skill-enhancement programs for Australian Defence Force personnel, training soldiers and support staff in a variety of essential and related combat skill sets. This includes the Australian Army Combatives Program (ACP), which is now mandatory for all enlisted members and recruits. KEF has also developed techniques and procedures for ADF Military Police and CPP (close personal protection) operatives.
Beyond the Department of Defence, Kinetic Fighting provides tailored training packages for a broad range of industries. We also train individuals from various vocations and all walks of life, on a professional or personal level. Our various personal protection courses (including our KEF–IC program) are detailed here.
Technical Expertise
The KEF team is stacked with subject-matter experts who have earned and tested their knowledge in the field. Our operators each have broad combat experience and specialist skills, while our carefully selected partners add another level of depth and adaptability. Through its technology development arm, Kinetic XR, KEF has also partnered with some of the world's most innovative software developers to bring virtual-reality and augmented-reality technology into our training programs. Currently in the development and testing phase, Kinetic XR will enhance the safety and availability of combative training. It will also revolutionise mindset and awareness training, as well as the prevention and management of traumatic stress.
Through Kinetic XR, Kinetic Fighting has also teamed with Chiron Global Technologies, an Australian-based developer of highly protective and flexible armour. This development partnership will combine state-of-the-art technologies to simulate real combat with unprecedented accuracy and safety. It will also set new benchmarks for the integration of feedback and testing features within training gear. KEF currently offers training incorporating the Chiron-X1™ armour, which withstands high-impact forces (including man-marking ammunition at close range). This enables maximally realistic training without risk of injury.
Additionally, KEF has partnered with innovative, Adelaide-based small-arms manufacturer Force Ordnance, and Australia's leading provider of tactical gear, 511. These partnerships give KEF and our clients access to a range of complementary subject-matter expertise and state-of-the-art equipment. This, in turn, enables us to integrate these elements into our training packages and services as required.
Close Protection & Security
As well as providing training, Kinetic Fighting offers elite close-protection and security services via our KEF Security Options division. The KEF team is led by former Special Forces operators who have provided security in war zones and protected officials at the highest levels of government. As such, KEF is able to deliver comprehensive, end-to-end security solutions, from briefing through to high-pressure execution. To find out more about our security capabilities, contact us.
Our History of Service
Kinetic Fighting began to take shape in 2006 when founder and CEO Paul Cale re-enlisted in the Australian Army. He was tasked with providing subject-matter expertise for Army's Unarmed Combat Cell, but a critical shortage of Commando sergeants saw him posted on to the 4th Battalion, Royal Australian Regiment, known as 4RAR Commando. 4RAR would later become the 2nd Commando Regiment. There, Paul was asked by Special Operations Commanders to rewrite the Australian Special Forces manual on Close-Quarter Fighting (CQF). He executed that brief in between — and during —five combat tours to Afghanistan and Iraq, which directly informed the program's development.
As a Sergeant in the 2nd Commando Regiment, in 2011 Paul established the Integrated Combat Centre within the '2 CDO' headquarters at Holsworthy Barracks, Sydney. This became the base for developing and delivering CQF training for SF units.
Creating a 'train the trainer' system for the CQF instructors of the Special Forces Training Centre (SFTC, now Special Operations Command/SOCOMD), Paul delivered his revamped program, which included the beginnings of Extreme Close Shooting (ECS). After requests from other government agencies, KEF has since redeveloped and enhanced ECS to also suit law-enforcement needs.
Before he left the Army in 2013 to establish KEF, Paul was invited by the US Military to teach his CQF system to several units of the American Special Operations Forces (SOF). Today, US Army Special Forces (Green Berets) are among those still using the Kinetic Fighting method within their official training package.
As a Commando sergeant, Paul also instructed the US Drug Enforcement Agency's Foreign-Deployed Advisory and Support Teams (DEA FAST). There are five of these elite tactical units, with one permanently on rotation in Afghanistan. They were sent to Holsworthy specifically to work with their Afghanistan partner force, the 2nd Commando Regiment. Paul worked with them as he did various other foreign special forces and law-enforcement units, which visit 2 CDO to attend symposiums and gain exposure to the Aussie Special Forces' world-renowned methodology.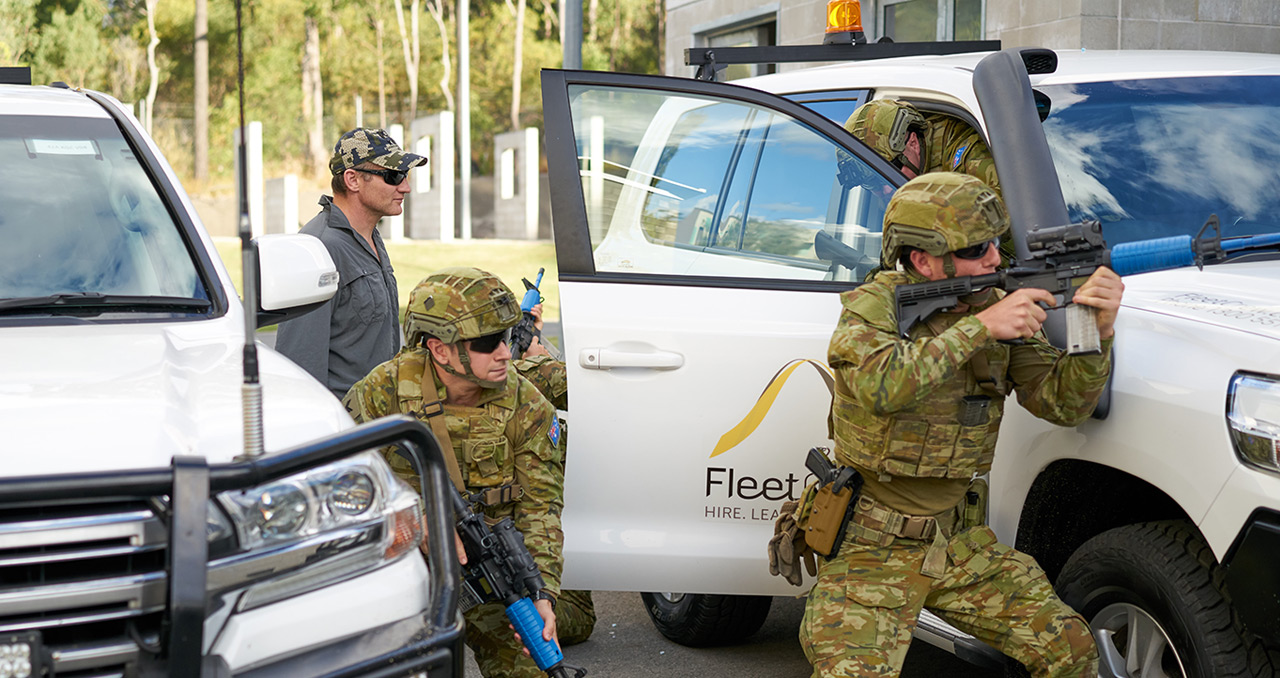 Current Defence Training
Since 2013, Paul Cale has led Kinetic Fighting's team of former Special Forces operators, police and weapons experts in designing and delivering essential combative and tactical training to Australian Army personnel. As Army's sole private training contractor, Kinetic Fighting developed Infantry Integrated Combat (IIC) and the Army Combatives Program (ACP). ACP is now mandatory for all officers and soldiers of the Australian Army. It has also been taught to small elements of Air Force, Navy and other government agencies, as well as visiting British Army officers.
From 2016, KEF has also been working closely with Army's 1st Division to prepare soldiers for deployment. This Individual Combat Behaviours (ICB) training covers various interrelated skill sets, from combatives and shooting to behavioural threat assessment and tactical driving. KEF developed this training (formerly known as Individual Skills Enhancement Training, or ISET), specifically for Defence. The catalyst came when the ADF identified a gap between its Special Forces and the rest of Army in relation to the training of key skills, both for international and domestic operations. They sought training packages that aligned with current Special Forces practices, but could also be adapted for all other organisations and levels within the army. KEF's Mission Specialist Instructors (MSI) were uniquely qualified to provide those packages. So, for the first time, the ADF engaged a private company to deliver the training.
ICB has since expanded in scope, with KEF delivering bespoke courses as needed. These employ numerous experts, from psychologists with a forensic specialty to interpreters with war-zone experience. The latter provide cultural awareness training and inject additional realism into combat scenario training for those deploying to the Middle East.
Overall, Kinetic Fighting has trained more than 1500 Defence personnel in a broad range of combat-related skills. While all of these enhance serving members' ability to succeed in their missions, some have also proven life-saving — in ADF operations and beyond.
Benefits of KEF Training
Kinetic Fighting's training packages reflect the adaptability for which our Special Forces soldiers are famous. This key trait enables our team of ex-SF instructors to develop needs-based programs for a wide cross-section of clientele, using core principles that have proven highly effective.
The obvious benefit of training with KEF is that we enhance capability — and
enhanced capability means reduced liability. However, there are many more reasons to train with us, including:
Improved critical-incident responses
Real advances in safety and fulfilment of duties of care
Increased confidence and self-reliance among personnel
Maximised team cooperation and cohesion
Provision of better services within your sector
Recognition of all the above by customers, staff and relevant authorities.
To see how KEF training has benefited other people and organisations, click here for KEF testimonials.
Kinetic Fighting's Core Values
Kinetic Fighting and its parent company KEF Group operate under the guiding mantra, 'Excellence Over Everything'. Knowing that excellence is a constantly shifting marker, we make it our business to stay at the forefront of research, as well as technical and procedural advancements in our sector. We then filter and apply this information using the extensive real-world experience of our leaders, in-house experts and partners. Our goal, always, is to give our clients the most effective and efficient training and service.
In working with any client, we commit to:
Use open communication to build good rapport
Provide value-for-money service at all times
Ensure the safety of our clients, the public and our employees
Deliver the most advanced training, tactics and procedures
Tailor all services to best suit our clients' needs.
To discover how Kinetic Fighting can enhance your capabilities with a comprehensive and tailored training package, contact us.