KEF–IC Training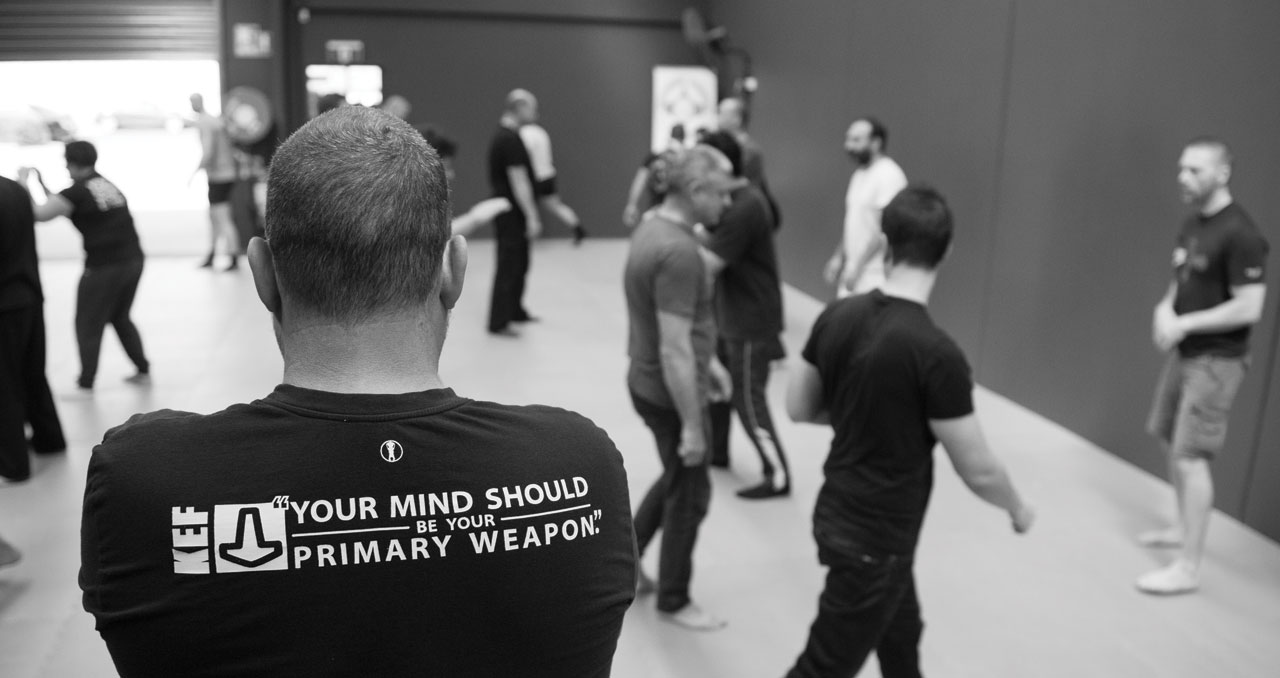 Kinetic Fighting–Integrated Combat (KEF–IC) is a system of mental and physical training, designed to instil a survival mindset while developing the skill sets to support it. In this and many other ways, it reflects the Australian Defence Force system to which it is aligned: the Army Combatives Program, or ACP.
KEF–IC courses focus on principle-based learning to facilitate faster uptake and flexibility in application, so our trainees get the most value out of every short course. Our instructors' mission is to provide you with the framework and understanding needed to develop the skills taught, as well as your existing skill sets, for effective application in self-protection or on operational duty.
Kinetic Fighting was first developed to keep soldiers alive in war zones. So, even though the KEF–IC program is tailored for use in an everyday setting under common law, the goal of the training is the same: survive, no matter what.
Who Can Train in KEF–IC?
Replacing Kinetic Fighting's previous P1–4 course modules for non-military personnel, KEF–IC training became available to the public for the first time in October 2018. It is designed for everybody, from professionals who deal with violence at work, to those who just want to feel safer on their daily commute. KEF–IC principles do not discriminate against the out-of-shape, physically challenged or inexperienced. They work because they are tactically and physiologically sound.
If this is your first foray into studying self-protection, KEF–IC courses will teach you the essential principles and key techniques needed to build your capability from foundation level. Through ongoing training and progression through the KEF–IC modules, you will acquire a reliable arsenal of battle-proven combative skills and tactics that can be applied under extreme pressure.
For seasoned martial artists and front-line professionals, a KEF–IC course will not only expand your repertoire of self-defence strategies and techniques, but give you the means to train them. The drills and applications learned will enable you to develop and test useful supplementary skills, as well as enhance your current abilities.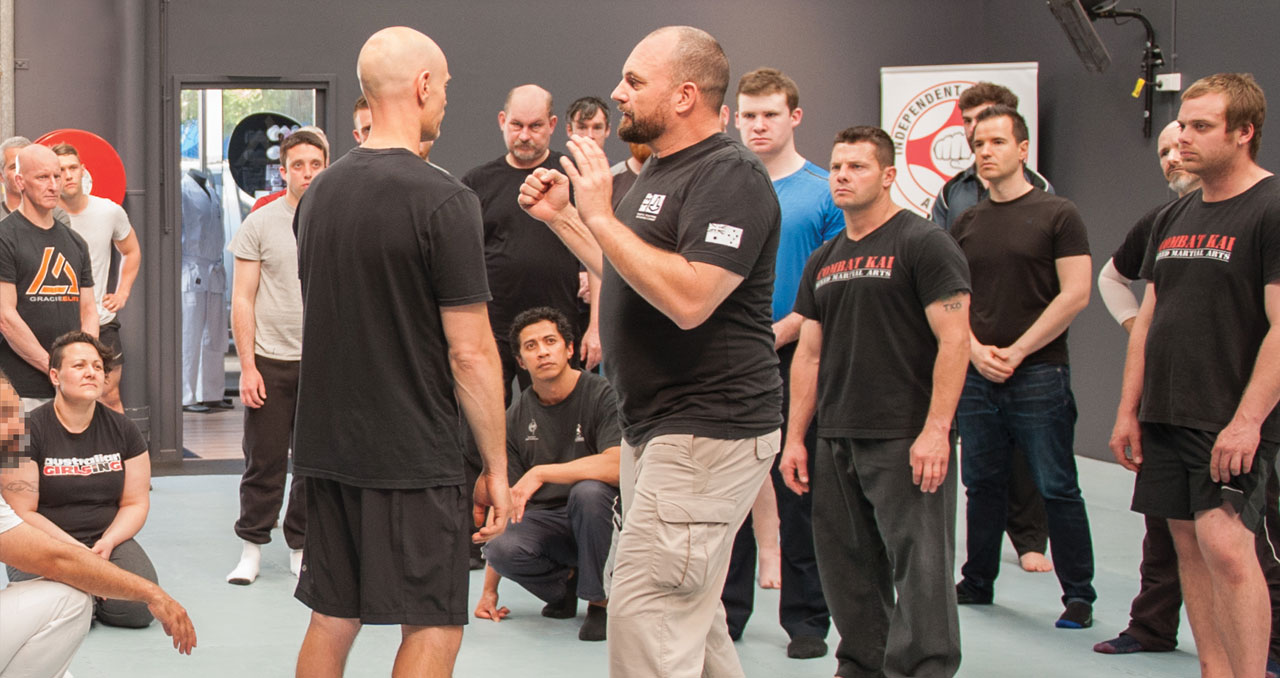 Getting Started
As with everything we do in Kinetic Fighting, your desired 'end state' will determine the path you take. Maybe you just want to learn mental strategies and tactical applications to make your existing martial arts skills more effective? Or, perhaps you want to dive right in and take your first steps toward a KEF–IC Black Belt? Either way, a good place to start is with the KEF–IC Alpha module, 'Self-Protection Essentials' (no prior training required).
Suitable for both front-line professionals and raw beginners, Alpha is a mix of theory and hands-on practice. On this course, you will receive close instruction in battle-proven principles and survival tactics that are adaptable to any martial art or on-the-job procedure. The four-hour session covers the key aspects of surviving a violent confrontation: mindset, tactics, legal and moral considerations, and functional, high-percentage techniques.
On the Alpha course you will also discover how KEF–IC's battlefield origins inform everything that you learn. With that in mind, the physical training focuses on the tactical application of predetermined gross motor skills, which are designed for regaining and maintaining the initiative even when in 'physical deficit' (meaning, injured and/or exhausted).
Depending on which KEF–IC courses are running in your area, you may also elect to start your training with a different module. For example, Charlie, which teaches you weapon survival essentials, or Foxtrot, which focuses on the 'soft skills' required to detect violent intent, avoid danger and manage confrontation. Each KEF–IC module has a distinct focus and allows you to access training in the subject matter most important to you.
Find a course

Progression and Qualification
Each of the modules mentioned above is a prerequisite for a more advanced module in the same subject stream. These are designed to consolidate and enhance the skills you've gained, and provide frameworks for further progression. For those who want to be graded or qualify as an instructor in KEF–IC, the Alpha course must be followed by Bravo, a.k.a. 'Survivability Blueprint'. This is the second of four modules that must be completed before the first testing phase, for Grey Level (see table below for more detail on this and other levels in the curriculum). The Bravo module is often run in tandem with Alpha (its prerequisite), and builds on the Alpha lessons with four hours of reflex training and drills. With the aim of developing and connecting your skills to form an integrated, effective arsenal, Bravo introduces principles of adaptation and free sparring/rolling to enhance tactical capability. You will also learn grappling skills applicable to the battlefield, and competitive drills that support tactical aims and develop 'survivability'.
If instead you are simply looking to learn the essentials of self-protection, or to put a more tactical perspective on your current training, you can complete any of the fundamental modules (for which there are no prerequisites). These include Alpha, Charlie, Echo (Combative Grappling) and Foxtrot. You can also do any follow-up module you choose — so long as you've done the prerequisite — as suits your own needs and interests.
See the table below for more detail on the grading syllabus and structure, or visit our courses page for information on specific modules and current courses.
Find a course

Contact Us
